Staff
Pastor Jonathan Kinner
Jonathan has been married to Jenifer Kinner for 10 years and have two handsome boys, and two baby girls! For years Jonathan has been passionately committed to the calling that God has put on his life. Today he and his wife work side by side to accomplish what God has called them to do in Eaton Ohio.
Jonathan has been planting Crossway Church since March 2015. He grew up in the Southern Baptist Convention in a small Baptist church. Jonathan was called into ministry at the ripe age of 15 years old and has been training since he was 17 years old. Jonathan is a graduate of Clear Creek Baptist Bible College.
Associate Pastor of Ministry Bill DePoyster
Tom House: Chair of Trustees
So much work, so little time….
I pray everyday that
The Lord gives us all
the
Strength and Ability to
Understand, Accept and
Rejoice in what ever His will is.
Betsy Kreger: Secretary
Danny Couch: Word Community Leader
Thy word is a lamp unto my feet, and a light unto my path.
Psalm 119:105
After Danny was called to teach Sunday school in 2009, his love to study, learn, and share the Bible became his mission.
So come, have a cup of coffee, and join us on Sunday mornings as we study the Word of God together.
Jenifer Kinner: Women's Ministry Leader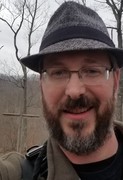 Michael Barnes: Youth Leader
Danny Couch II: Outreach Leader
Patti Spoonamore: Jr. Church Leader
Stephanie Hoff: Children's Ministry Team Leader
Angie Driver: First Impressions Team Leader
Curtis Scholl: Technology Team Leader
Holly Kinner: Outreach Center Leader